At St Ives Shopping Village, we've always been passionate about sustainability. Since 2020, we've been working hard to revolutionise our operations and reduce waste going to landfill across the entire centre.
Through participation in government initiatives and consultation with waste experts we're continually improving our results and implementing our strategy for long-term sustainability.
Results: 
To date, the new waste management system has far exceeded our initial goal of reducing total waste of 15%. Since its introduction in November 2020, 42% of waste, amounting to 235 tonnes, has been diverted from landfill and 26% or 144 tonnes of waste has been recycled.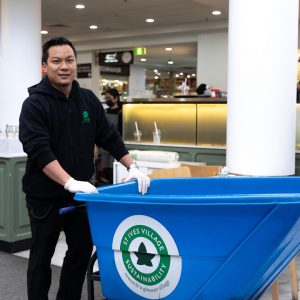 Our retailers
Over 100 St Ives Shopping Village retailers, supported by two dedicated waste valets, separate waste into different streams each month, including:
5+ tonnes of organic food waste, fed into a food digester and converted into a safely disposable liquid
5 tonnes of coffee grounds converted to fertiliser
460kg of soft plastics (including milk bottles)
420kg of cardboard
7 tonnes of unsold bread used as cattle feed in Western Sydney
The amount of waste is tracked and monitored so we can address and educate retailers when they are producing more waste than average. This is all supported by our dedicated waste valets, two newly created roles funded entirely by the cost savings achieved by implementing the program.
Your contribution
Our valued customers are a key part of our sustainability goals and together we are creating a greener village. Each month, you place over 900kg of waste into our customer recycling bins. We do our best to provide clear and educational signage to make sure each item goes in the right bin, avoiding contamination which sends waste to landfill.
You've also embraced our bag recycle station and committed to bringing your reusable shopping bags when you visit. Thank you!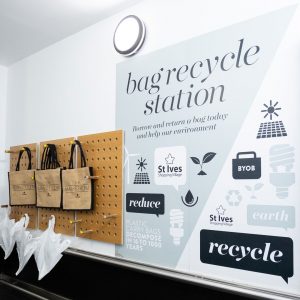 Better Business Partnership
We have been partnering with Ku-ring-gai Council since 2020, supporting their goal of net zero by 2040 and championing community education. We are proud of our Better Business Sustainability Accreditation and last year we were awarded the winner in the Shopping Centre and Markets category at the Better Business Partnerships Awards.
What's next?
Moving forward, our strategic plan aims to keep working with contractors, retailers, Ku-ring-gai Council and the community to continue to improve sustainability, with the goal of reducing waste going to landfill by 50% by 2023.
Together, St Ives Shopping Village is moving towards a greener village.