The best thing about cold weather? Warming winter recipes!
We've taken inspiration from our fresh food vendors to bring you a variety of winter dishes that will make you feel all warm inside.
Enjoy!
Sydney Fresh Seafood's Roasted Clams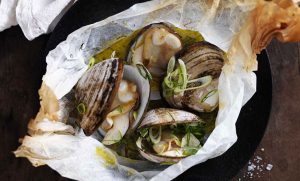 Sydney Fresh Seafood's Drummoyne Chef, Stephen Hodges, has been an iconic part of the Sydney food scene for more than 15 years and has released a cookbook packed full of seafood goodies! This warming recipe will transport you to a seaside village in Europe.
Ingredients
125 ml dry white wine, plus 160 ml extra
5 garlic cloves (1 x peeled and crushed, 4 x peeled and thinly shaved)
1/2 small brown onion (peeled and roughly chopped)
A few parsley stems
8 large clams
100 g butter (softened)
4 tbsp finely chopped, flat-leaf parsley leaves
2 spring onions (thinly sliced on the diagonal)
Freshly ground black pepper (to taste)
Method
Combine the wine, crushed garlic clove, onion and parsley stems with 125 ml of water in a large saucepan with a tight-fitting lid and bring to the boil over medium-high heat. Toss in the clams, then cover and cook for 8-10 minutes, or until the clams open.
Preheat the oven to 200°C.
In a small bowl, combine the butter, chopped parsley, shaved garlic cloves and spring onion. Stuff the clams with the butter mixture and season with the pepper (but no salt, as they're already salty enough).
Lay a large sheet of foil on a clean work surface and cover with a sheet of baking paper. Place the clams on the paper, splash the 160 ml wine over, then fold the paper and foil over at the top and sides to create a large parcel. (If preferred, divide the clams and make two parcels.)
Place the parcel on a baking tray, then roast for 15 minutes.
Remove from the oven and open the parcel with care, as the escaping steam can burn. Serve the clams immediately in a bowl to share or an individual plates, with the melted herb butter from the foil package spooned over.
Serves 2-4. For more Sydney Fresh Seafood recipes, visit: https://sydneyfreshseafood.com.au/recipes/
Craig Cook's BBQ Butterflied Lamb with Chilli Vegetable Salad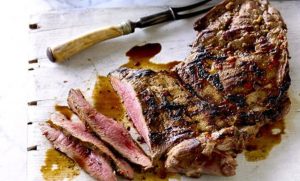 This delicious butterflied lamb will warm you up instantly!
Ingredients
1 butterflied leg of lamb, trimmed (approx. 1.5 kg)
1 clove garlic (crushed)
2 tbsp light soy sauce
1 tsp sesame oil
2 tbsp mirin
1 long red chilli (deseeded, finely chopped)
Chilli Vegetable Salad
1 tbsp olive oil
250 g Japanese pumpkin (peeled, cut into 4cm pieces)
250 g baby chat potatoes (quartered)
1/2 cauliflower head (cut into florets)
1 small broccoli head (cut into florets)
1/2 tsp chilli flakes
1/2 tsp ground cumin
1/2 tsp ground coriander
1 small bunch of English spinach (trimmed, roughly torn)
1/4 cup hazelnuts, toasted and roughly chopped
Method
Pre-heat a lightly oiled barbecue or chargrill pan over medium high heat. Combine garlic, soy, sesame oil and mirin in a small bowl. Rub marinade over lamb and season.
Cook lamb for 12 to 15 mins on each side, brushing with marinade, or until cooked to your liking. Set aside to rest for 10 minutes and thinly slice.
Meanwhile, preheat oven to 200°C (180° fan-forced). In a large roasting pan lined with baking paper, place the pumpkin, potatoes, cauliflower and broccoli. Drizzle with the olive oil, and sprinkle with the spices. Season and toss to coat. Roast vegetable for 30 to 35 minutes, turning once, or until golden and tender. Add spinach to the pan, toss and sprinkle with hazelnuts.
Serve lamb with roasted vegetables.
Serves 4. For more Craig Cook recipes, visit: https://craigcookthenaturalbutcher.com.au/blogs/recipes
Sutcliffe Meats' Cider Pork Cutlet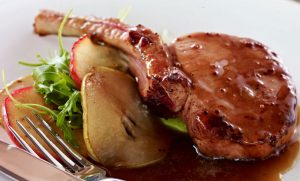 People have paired pork with apples for centuries. Before sugar was readily available to most people, fruit sweetened foods were usually served alongside or in combination with savoury, and apples were a common way to add a touch of sweetness to pork dishes.
Ingredients
4 lean Australian pork cutlets
375 ml apple cider
1 tbsp seeded mustard
1 tbsp olive oil
1/2 cup brown sugar
40 g butter
2 small red apples (cored)
2 small green pears (cored)
Rocket salad to serve
Salt and pepper (to taste)
Method
Combine 150ml of apple cider with seeded mustard and olive oil. Allow cutlets to marinate for up to 1 hour.
Place the remaining 225ml of apple cider into a small saucepan with the brown sugar and bring to the boil. Simmer until reduced. Add sliced apples, pears and butter to the reduced liquid and poach for 4 – 5 minutes.
Remove cutlets from the marinade. Heat the griddle pan over a medium heat and cook the cutlets for 4 – 5 minutes each side. Brush with a little glaze, remove from heat and allow to rest
Arrange the pork cutlets and fruit on individual serving plates and serve with rocket salad. Season with salt and pepper.
Serves 4. For more Sutcliffe Meats recipes, visit: https://sutcliffemeat.com.au/recipes/
The Source's Sticky Date Pudding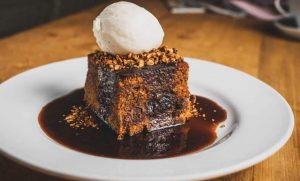 This gluten-free Sticky Date Pudding recipe is an all-time favourite and caters to most dietary requirements. Keep this recipe in your go-to collection for when you need to quickly whip up a sweet treat.
Pudding
100-150g pitted dates (chopped)
1/2 cup boiling water
1 tsp baking powder
1/2 cup maple syrup or sweetener of choice
1 free-range egg
1 tbsp raw coconut oil
1 cup almond meal
1/2 cup tapioca flour or arrowroot powder
1/2 tsp vanilla bean powder
1/2 tsp fine Himalayan salt
Sauce
160ml coconut milk
4 tbsp maple syrup
1 tsp vanilla bean powder
1 tbsp butter or raw coconut oil
Pinch fine Himalayan salt
Topping
Crushed pecans or walnuts
Pudding
100-150g of organic pitted dates, chopped
1/2 cup of boiling water
1 tsp of aluminium free baking powder
1/2 cup of organic maple syrup or sweetener of choice
1 organic free-range egg
1 tbsp of organic raw coconut oil
1 cup of blanched almond meal
1/2 cup of organic tapioca flour or organic arrowroot powder
1/2 tsp organic vanilla bean powder
1/2 tsp fine Himalayan salt
Method
Preheat oven to 180˚C.
Place chopped dates in boiling water, allow to soak until softened.
Combine all pudding ingredients in a bowl, mix until well combined. Transfer to pudding dish or deep baking pan. Bake for about 40-50 minutes or until top springs back and skewer inserted into the centre comes out clean. Allow to rest for 5 minutes.
Meanwhile, mix sauce ingredients over medium heat on the stovetop until well combined and resembles a syrup.
Drizzle sauce over the served pudding with ice-cream, coconut yoghurt or thick cream.
Serves 4-6. For more The Source recipes, visit: https://thesourcebulkfoods.com.au/recipes/