With February coming to a close, enjoy a few final simple savoury recipes from our retailers before we say goodbye to the summer season.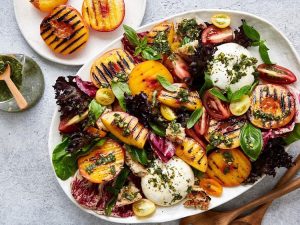 Chicken Skewers with Tabbouleh, Hummus and Flatbreads
Recipe by The Source Bulk Foods
Ingredients
For chicken skewers
1kg chicken thigh fillets, 2cm pieces
1 clove garlic, minced
2cm piece ginger, grated
1 1/4 tbs Outback Bush Curry mix
1/2 tsp Australian pink lake salt
Zest and juice of half a lemon
2 tbs olive oil
For hummus
50g dried chickpeas, soaked overnight
1 clove garlic
1 tsp ground cumin
Juice of half a lemon
130g tahini
1/2 tsp Australian pink lake salt
For tabbouleh
200g tri-colour quinoa
1/2 tsp Australian pink lake salt
1/2 lemon, juiced
60mL olive oil
1 Lebanese cucumber, diced
200g cherry tomatoes, halved
1/2 red onion, finely chopped
1/2 cup mint, finely chopped
1/2 cup parsley, finely chopped
For flatbreads
180g self raising flour
1/2 tsp baking powder
1/2 tsp Australian pink lake salt
180g plain yoghurt
Bush Dukkah and lemon wedges to serve
Method
For the chicken skewers, place all ingredients in a bowl and mix to combine. Thread onto 12 skewers and keep in the fridge until ready to cook.
For the hummus, place the soaked chickpeas in a saucepan and cover with water. Bring to the boil and cook for 1 hour or until very soft. Strain, reserving ½ cup of the cooking liquid. Place the chickpeas, cooking liquid and remaining hummus ingredients into a food processor and blend until smooth. Pour into a small serving bowl and place in the fridge.
For the tabbouleh, place the quinoa in a saucepan with enough water to cover by 2cm. Bring to the boil, reduce heat and cover. Simmer for 15 to 20 minutes or until water is absorbed and quinoa is fluffy. Set aside and then once cool, combine with the remaining tabbouleh ingredients. Place into a serving bowl and keep in the fridge until ready to serve.
For the flatbreads, combine all ingredients in a bowl and use hands to bring together into a ball. Turn out onto a floured surface and knead briefly until smooth. Cut dough into four pieces and roll each out to 3mm thick rounds. Dust off excess flour and brush with olive oil or butter. Heat a non-stick pan over medium-high heat and cook the flatbread for 1 to 2 minutes on each side, until browned and puffing up. Wrap in a tea towel and set aside until ready to serve.
To cook the chicken skewers, place a grill pan over medium-high heat and drizzle with olive oil. Cook the chicken skewers for 8 to 10 minutes, turning occasionally. Place on a serving platter.
Present the chicken skewers, hummus, tabbouleh, and flatbread in the centre of the table, along with the Bush Dukkah and lemon wedges, so that everyone can serve themselves.
Grilled Stone Fruit Salad
Recipe by Harris Farm
Ingredients
A variety of stone fruit – think peaches, nectarines – halved and/or quartered, stone removed
Extra virgin olive oil
1-2 burrata balls
Punnet of cherry tomatoes
½ cup of shelled pistachios, roughly chopped
Honey to drizzle
Salt and pepper
Re-purposeful picks salsa verde, to serve
Method
Preheat your grill. Whilst it's heating up, quarter and half your stone fruit anyway you like. Light drizzle over olive oil and ensure it's coated evenly over the fruit.
Once your grill has heated up, place the stone fruit, flat side down. We're looking for a nice char mark, keep your fruit flat side down for 7-8 minutes.
Once charred, turn over to and lightly cook the other side for a further 5 minutes. Remove from the grill and set aside.
On a serving a platter, place your grilled fruit, cherry tomatoes burrata balls and scatter over the pistachios and salsa verde.
Finish with a drizzle of honey, salt, pepper and a drizzle of olive oil
Thai-Glazed Lamb Loin Chops
Recipe by Sutcliffe Meats
Ingredients
For lamb chops
8 lamb loin chops, trimmed
2 tbsp palm sugar (or brown sugar), finely chopped
2 tbsp fish sauce
2 tbsp tamarind puree
For sweetcorn slaw
2 corn cobs, husks removed
¼ red cabbage, thinly sliced
1 cucumber, halved lengthways and sliced on the diagonal
½ cup mint leaves
Juice of 1 lime, plus wedges to serve
Method
Place lamb loin chops on a plate or tray in a single layer. Combine palm sugar, fish sauce and tamarind in a jug and use a pastry brush to coat the lamb chops on both sides with the glaze.
Preheat a BBQ or chargrill pan and cook corn for around 15 minutes, turning occasionally, until grill marks appear. Allow to cool slightly and cut kernels off the cob. Place in a large bowl with cabbage, cucumber, mint and lime juice. Season with salt and pepper and toss to combine.
Cook lamb chops on BBQ or chargrill pan for 5-6 minutes per side, then turn and cook edges until crispy. Rest for 5-10 minutes. Sprinkle with a few flakes of salt to serve.
Serve lamb with slaw and lime wedges.
BBQ Pork Steak with Moroccan Mustard
Recipe by Craig Cook the Natural Butcher
Ingredients
For pork
4 pork loin steaks, trimmed
30g sesame dukka
For mustard
100g dried apricots soft, diced
1/2 cup water
1/2 cup Dijon mustard
2 tablespoons honey
2 tablespoons Moroccan seasoning
1 teaspoon lemon zest
For salad
Method
Pre-heat BBQ or griddle pan.
Dust pork steaks with dukkah.
Brush grill plate with a little oil and BBQ steaks for 6 minutes on one side and 2 on the other. Leave in a warm place to rest for 2 minutes.
Place the mustard ingredients into a small saucepan and stir until liquid boils, reduce heat and simmer until thick for 3 – 4 minutes.
Serve steak over cous cous topped with mustard.
Notes: Mustard may be prepared ahead of time and stored in a jar refrigerated for 1 month.