From art by local students to the Ku-ring-gai Art Society (KAS), The Gallery St Ives is proud to celebrate the talents of our community.
Regular visitors to St Ives Shopping Village will be familiar with the colourful art exhibited in our in-centre gallery space year-round. From charity groups to the works of local students to a long-standing relationship with Ku-ring-gai Art Society (KAS), The Gallery St Ives is proud to celebrate the talents of our community.
Ku-ring-gai Art Society
KAS held its first exhibition at the Village in 1976. More than 45 years later, the art society's three exhibitions each year are highly anticipated by our local community. Don't miss the annual KAS Awards 2022 Exhibition — over 100 artworks will be on display from 17–31 July, with the awards ceremony taking place on 22 July. Exhibited works will be available to purchase, so you can find the perfect piece of local art to take home.
Cerebral Palsy Alliance
Exhibiting in our space for the first time from 4–14 July, the Cerebral Palsy Alliance is a local group with a passion for the creative arts. Celebrating the individual expression of art in its many art forms for people of all abilities, the Alliance's art program allows its artists to engage in their own unique art experiences. Artists create their works using modified equipment or adaptive techniques.
Local schools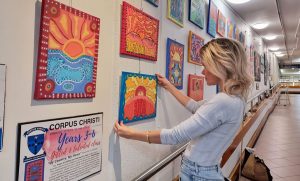 The Gallery gives young artists a chance to display their works in a public forum, with regular exhibitions from local schools — including St Ives High School and Corpus Christi Catholic Primary School — a highlight of our calendar. Year 5 and 6 students from Masada College participated in the latest exhibition, while kids from St Lucy's School will see their art on display from 8–21 August.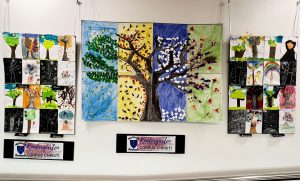 The Village community
Between providing a place for local groups and organisations to share their art, we also love to celebrate you — the people of St Ives. The Gallery allows us to host our own exhibitions and competitions, including last year's incredibly successful all ages photographic and artwork competition. We received close to 300 entries across all ages, responding to the prompt: what has inspired you from nature during COVID-19 lockdowns? Prizes were awarded to different age groups, and it was amazing to see such positive and inspiring works bringing the community together.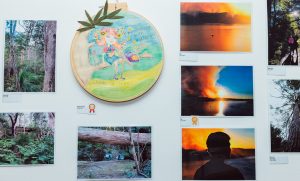 When you're next in centre, be sure to check out the latest incredible art from the St Ives community. You'll find The Gallery on the ramp adjacent to The Living Room Café and Australia Post.