Are you constantly on the lookout for ways to keep your kids occupied? Or do you have a voracious young reader that can't get enough? Our friends at Book Review have shared the inside scoop on some of the best books for children of all ages.
About Book Review
Book Review has been the local independent bookshop in St Ives for over 25 years. While you cannot browse in the store right now, you can still support these local legends through click and collect, phone orders and at the shop front itself, where you'll find extensive displays and a friendly face offering even more recommendations.
When we asked Book Review why it was important to shop at local independent book shops, they asked back: "Why wouldn't you?" Shopping locally is convenient, furthers a sense of community and counters the sense of isolation that so many are experiencing.
During this time, when people are rediscovering their love of reading, and children are delighting in finding their next favourite authors, consider popping into Book Review and picking up one or two of these great recommendations.
Board Books

Ready Steady…Moo! And Ready Steady…Roar!
Due for release on September 14, little ones will love these board books with flaps and a mirror. Kids lift the flaps and learn to moo, baa, neigh and roar in this interactive and colourful duo, with fun illustrations by Steve Mack.
Early Readers, 5+

Paris Takes Over the World by Kyla May
In book #1 of a quirky new series released earlier this year, readers join little girl Paris on an unexpected adventure in her favourite city — Paris, of course!
The Magnificent Hercules Quick by Ursula Dubosarky
Hercules wants to be a magician and is saving up to buy a box of magic tricks. A fun story about a little boy learning magic with the help of his eccentric neighbours. From the Australian Children's Laureate for 2020–2021 and the bestselling creators of The Terrible Plop.
Younger Readers, 7+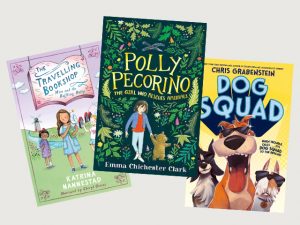 Polly Pecorino: The Girl Who Rescues Animals by Emma Chichester Clark
Something is lurking in Wild Bear Woods and Polly, who can talk to animals, will be the brave hero of this tale. This stunning debut fiction novel from renowned children's picture book author-illustrator Emma Chichester Clark is one of the best kids' books of 2021.
The Travelling Bookshop: Mim and the Baffling Bully by Katrina Nannestad
Sometimes finding just the right book will change your life and this is precisely the quest that Mim embarks on in this new series about a girl who roams the world in a travelling book shop with her dad, brother and a horse called Flossy. A gorgeous novel about friendship, with a dash of hope.
Dog Squad by Chris Grabenstein
Kids who enjoyed the Dog Man series will love this hilarious new tale from the bestselling author of Escape from Mr. Lemoncello's Library. "When trouble calls…it's Dog Squad to the rescue!"
Older Readers, 10+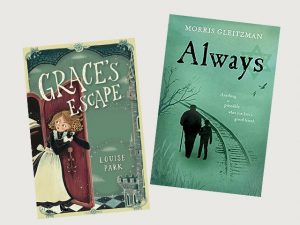 Grace's Escape by Louise Park
Moving to a Victorian castle holds more in store for plucky Grace than she anticipates — will she be able to solve the mystery of the two missing sisters? Time travel, literary history and a captivating mystery will delight avid readers.
Always by Morris Gleitzman
The much-anticipated final chapter of Felix's journey, which has enthralled readers for 15 years across six celebrated books, is available now. This ever-popular series continues to entice new readers in its powerful evocation of courage and identity.
Young Adults


Sugar Town Queens by Malla Nunn
Fiction takes us to different worlds, which are sometimes nearer than we realise. This is a powerful story of 15-year-old Amandla, living in one of South Africa's infamous shanty towns, trying to find her way amidst the mystery of her family and the secrets that will be revealed.
Threadneedle by Cari Thomas
Anna has the gift of magic, and her aunt has always warned her of the dangers. As she discovers a London she never knew existed, Anna begins to wonder if her magic is a gift or a curse.
For more great book recommendations for kids and adults, keep an eye on our Instagram or ask the friendly faces at Book Review.