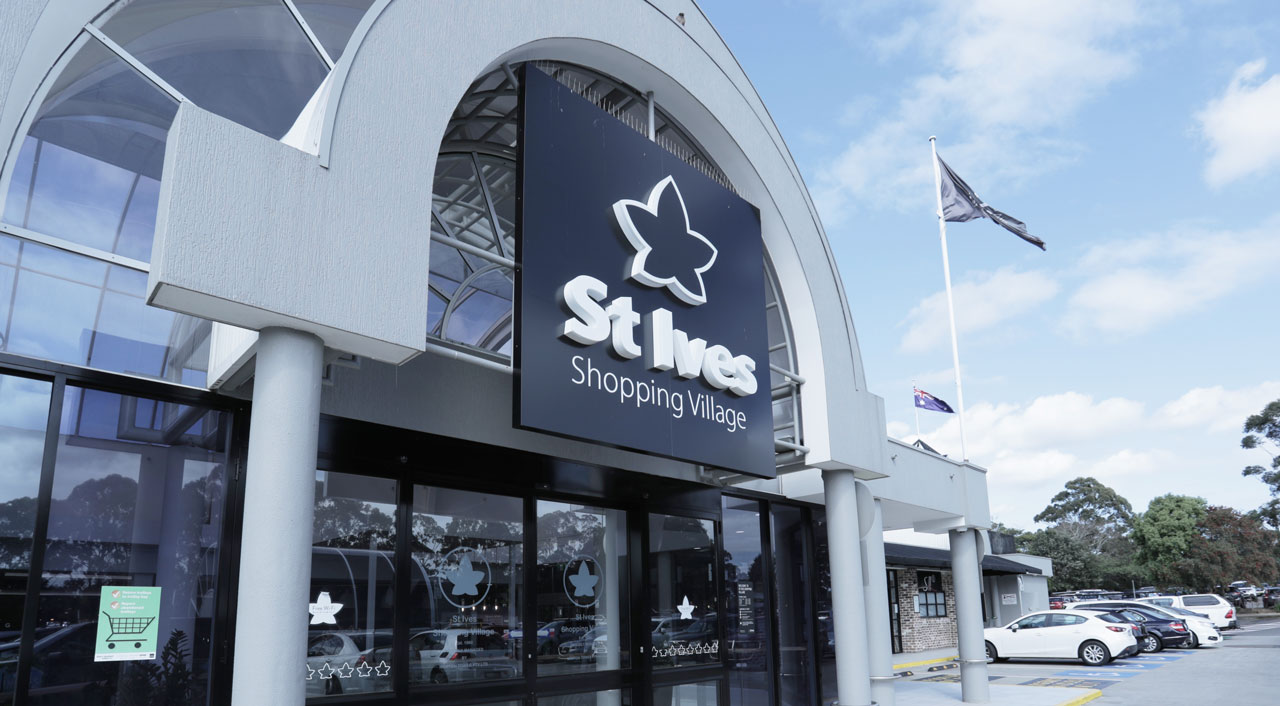 The safety and wellbeing of customers, community, retailers and staff is our highest priority.
Trading Retailers
Following the NSW guidelines, only essential retail is open for trade. We recommend that you plan your trip in advance and call to check trading hours for individual retailers.
– Supermarkets, AM Mart Asian Grocer & liquor stores
– Fresh food operators (Craig Cook & Sutcliffe Meats, Juice + Wellness, SushiRu (sushi train and kiosk, Deli Hub, Bakers Delight, Simply Noodles, Rebecca Lauric, The Source Bulkfoods)
– Pharmacies, St Ives Medical Centre, Epstein Chiropractor, St Ives Physiotherapy
– Cafes & Restaurants – takeaway only
– Essential services: retailers (Nextra Newsagency, Mobile Experts, The Pet Connection, Book Review)
– Services (Banks, Australia Post, The Optical Co & OPSM)
Non essential retail, hairdressers, gyms, beauty, massage and nail salons remain closed (due to government specifications).
Some fashion are offering click and collect services from the store (check with individual retailers)
Please visit www.stivesvillage.com.au for retailer contact details.
Confirmed COVID Case: Friday 9 July & Monday 12 July 
On Tuesday 13th July, NSW Health advised a person/s attending St Ives Shopping Village on the following dates and times and tested positive for COVID-19:
O'Loughlin's Medical Pharmacy: Friday 9th July between 6 – 6.30pm
Oscars Chargrill: Monday 12th July between 5.20 and 5.45pm
The Northern Sydney Public Health Unit assessed the risk to staff and customers of St Ives Shopping Village as LOW.
For further information and general updates on COVID-19, refer to www.health.nsw.gov.au or call the Health Information Line: 1800 020 080. For a complete list of case locations, visit https://www.health.nsw.gov.au/Infectious/covid-19/Pages/case-locations-and-alerts.aspx.
The following precautionary measures are in place to minimise the risk of the virus and ensure we provide a safe environment:
Masks are compulsory in all indoor non-residential settings, including shopping centres (this includes retailer staff and customers)
Cafes, restaurants and food operators are open for takeaway only, no dine in seating will be allowed
No Browsing is permitted, shopping should be based around essential services only.
QR Code check-ins are required when entering the Centre and when visiting all retailers. Check out also required when leaving the premises
COVID Safety Marshalls are onsite to monitor social distancing and the wearing of face masks
All Market Room seating has been removed
Signage is displayed to reinforce precautions that should be maintained, including wearing of face masks, hand hygiene and social distancing throughout the Village.
Loudspeaker announcements reinforcing wearing of face masks and social distancing.
Cleaning rotations with hospital-grade disinfectant are being completed every two hours across high touch points, including common areas, lifts and bathrooms.
Sanitiser dispensers are provided in common areas.
Retailers, contractors and customers are encouraged to maintain good hygiene practices, through retailer communications and decals in bathrooms, entrance doors, lifts and at the customer service desk.
All retailers maintain current COVID Safety Plans
These restrictions are designed to reduce the risk of further community transmission. The government and health experts will continue to monitor the situation closely and provide updated information and advice.
To contain any potential spread of COVID-19, NSW Health requests that anyone who is not well, presenting COVID-19 symptoms or has been in contact with someone with COVID-19 symptoms stay home, self-isolate, get tested, and await results.
We ask for your support in making sure St Ives Shopping Village continues to be a place of kindness and compassion for all customers and staff during this time.
Let's work together to help our community shop safely.
Download our recommended COVID-19 precautions here.
For further information visit the NSW Government website.